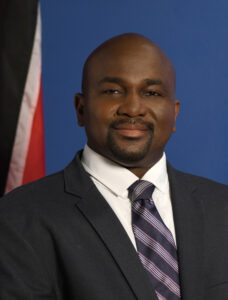 The Honourable Brian Manning was appointed Minister in the Ministry of Finance on August 19th, 2020.
Minister Manning is a former Small, Medium Enterprise Financing Officer at the Inter-American Development Bank (IADB) in Washington DC. During his tenure at the IADB, he was funding SME's in Central America and the Caribbean. He is also a former Equity Analyst at the University of Maryland's Robert H. Smith School Global Equity Fund where he was responsible for conducting analysis of international equity and fixed income securities and, managing diversified portfolios of equities and bonds.
Minister Manning's professional experience also includes tenures as a Business Analyst at Massy Energy Services Ltd and as an Investment Banker at RBC Caribbean. His responsibilities involved a specialisation in feasibility studies and business plans for manufacturers in the downstream energy sector – including iron, steel, aluminium and plastics sectors, the analysis of proposed mergers and acquisitions, the analysis of financial statements for the purpose of recommendations and the development/maintenance of relationships with key stakeholders.
Minister Manning brings a wealth of knowledge in applicable fields of study with graduate degrees in Finance, Asset Management (Master of Science), International Business and Marketing (Masters of Business Administration), and an undergraduate degree in Economics (BA).
Minister Manning is also certified in Advanced Business Spanish (written & conversation) from the Venezuelan Embassy, Trinidad and Tobago and a former President of the Trinidad & Tobago Basketball Federation.