Mandate: The Office of the Supervisor of Insolvency (OSI) was created to contribute to public confidence in the financial system of Trinidad and Tobago.
About Us:
The OSI is a regulatory organization charged with the responsibility of monitoring, protecting and strengthening the insolvency system of Trinidad and Tobago.  The role of the insolvency administration is to provide a fair and effective system for the restoration of assets to productive use, a framework for debtor counseling, a public record of estates, encouragement for viable businesses to reorganize, and a deterrent to abuse.  This role is carried out jointly with private sector trustees licensed by the Supervisor and with the Courts.
Key People:
Supervisor – Manages the organization and programmes of the OSI as its Chief Executive Officer and is responsible for providing vision, strategic objectives, guidance, oversight and leadership.
Deputy Supervisor – Under the direction of the Supervisor, the Deputy is responsible for developing, establishing and managing the national supervisory framework, strategies, operational policies and procedures for the supervision of stakeholders, including trustees, and of all debtors filing insolvency proceedings under the Bankruptcy and Insolvency Act, 2007 (BIA).
Business Operations Coordinator – Under the direction of the Supervisor, the Coordinator is responsible for developing, establishing and managing the administrative policies and procedures and the delivery of services including finance and accounting, human resources, information and communications services and technology support.
Senior Legal Officer – Provides legal counsel to the Supervisor and is also responsible for all Court matters and interpretation and clarification of any relevant legislation.
Insolvency Analyst – Carries out functions related to the supervision and administration of estates, including reviewing, analyzing and verifying the activities of the debtors, creditors and trustees in relation to the requirements of the BIA and regulations.
Trustee and Regulatory Affairs Officer – Monitors the insolvency system from the perspective of identifying any problems regarding the application and interpretation of the law and regulations as well as managing relationships with the trustee community.
Registration Officer – Registers assignments, proposals, complaints and other documents that are legally required to be filed with the Supervisor, ensuring that they conform to the BIA and regulations before officially accepting the matter as being filed with the OSI.
Forms
Legislation:
Trustee Registry 
OSI Organizational Chart: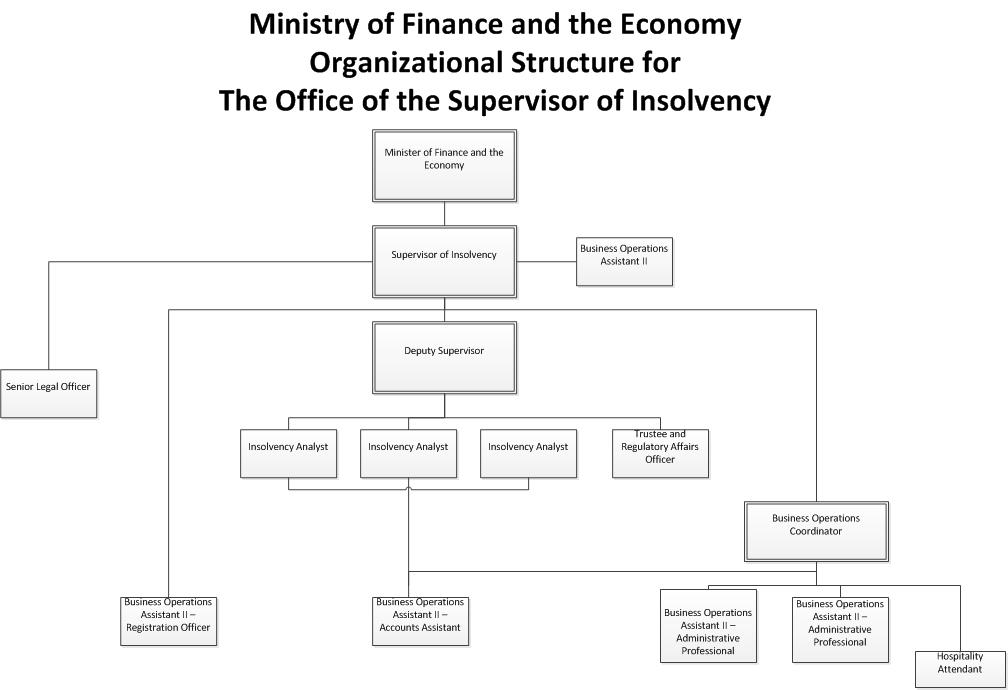 For further information please contact:
The Office of the Supervisor of Insolvency (OSI)
Ministry of Finance
Level 19
Eric Williams Finance Building
Independence Square
Port of Spain
Tel: 612-9700 exts. 1945-7
E-Mail: Seebaran-TimothyK@gov.tt or JulesA@gov.tt